Welcome to the Outdoor Learning Hub
Welcome to our Outdoor Learning Hub. We will provide you with some exciting suggestions and ideas that you could try each week. The activities are usually done outdoors but whilst we are locked-down, for those who don't have access to an outdoors space, we'll try to offer suggestions for how you could get involved inside your home.
It is up to you which activities you'd like to try and you may have your own ideas that evolve as you try things. Please follow these ideas too – don't feel that you need to do everything we suggest or do the activities in any particular order.
We hope you enjoy them and have fun!
What can you get up to this Week?

This week is all about moving and maybe getting dizzy!
Have a look at what Mrs Horscroft was getting up to with her family on a hill in one of our gorgeous parks…
Make your own Obstacle Course!
Pick a space in which to play (inside, outside, or both).

Set up a "course" or lots of physical challenges to get from "here to there."

Include each of the following:
| | |
| --- | --- |
| 1 Something to go over (e.g piece of wood, box, couch, pillow mountain, stack of books, bucket) | |
2 Something to walk along (e.g. coil of rope, stretched out ribbon, strip of tape, row of pillows, line of coins, line of rocks)
| | |
| --- | --- |
| 3 Something to go under (e.g. table, low tree branch, bush, blanket or sheet draped over two objects, a tunnel made of boxes or sticks) | |
| | |
| --- | --- |
| 4 Something to balance on (stack of books, one foot, a log, an uneven rock, two branches in a cross shape, broom handle) | |
5 Something you have to get into a container (e.g. ball into a pan, pebbles into a box, stuffed animal into a basket, a smaller box into a bigger box, a rock inside a circle made of twigs)
| | | |
| --- | --- | --- |
| 6 Don't forget to use different ways to move from here to there (e.g. stamp, jump, spin, roll, kick, crawl, hop, tiptoe, "fly," lunge) | | |
Now challenge yourself and other people to have a go!
Did you know you have 2 secret senses that help you move about? Click on this link to find out more about them and to discover lots of exciting ideas you can try to keep you and your family moving this summer!
How could you 'move it' with your family? 
| | |
| --- | --- |
| This week Mrs Owen has a fantastic activity for you to try. Click on the images to find out what to do… | |
Nature News – July
There's lots going on in our outside spaces this month! What can you see?
| | |
| --- | --- |
| Animals – Look out for bats in the evening swooping over scented flowers, snapping up insects. Bats are having a tough time finding food to eat, and many of their natural roosting places are being damaged and destroyed. | |
| Keep an eye out for common pipistrelles – they are one of our smallest bats, weighing the same as 10 paperclips and are small enough to fit in a matchbox! | |
Have a look at this clip showing how bats hunt for moths, and what the moths do to try to get away!
Our bats are endangered. Maybe you could help them find a safe place to sleep. Ask someone who's handy to help you make a bat box.  This gives bats somewhere safe to roost, raise their pups and sleep during the day.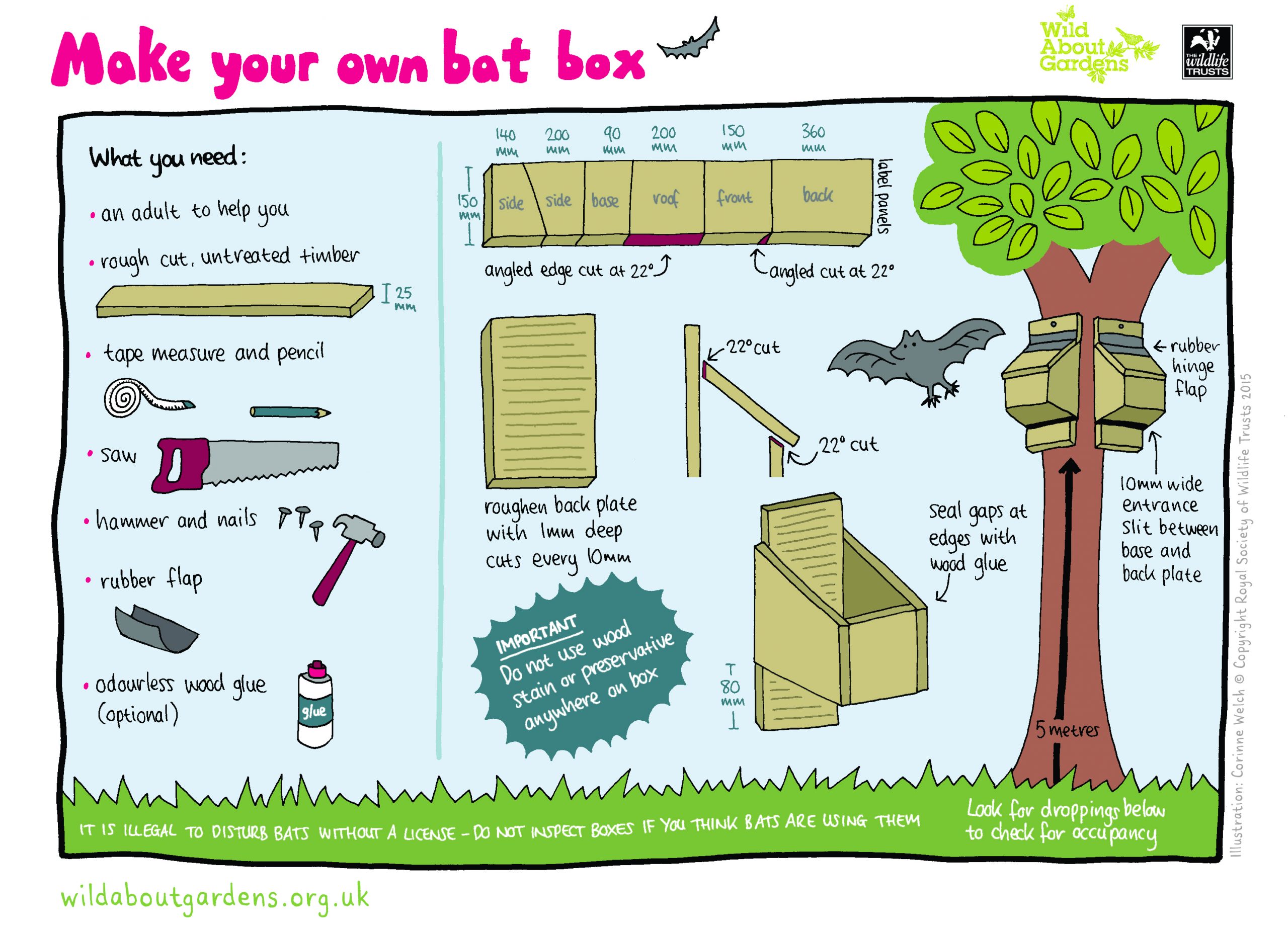 Birds – Look out for birds feeding their young, who will be starting to fly from their nests (fledglings). Use the Baby Bird Spotter to identify them.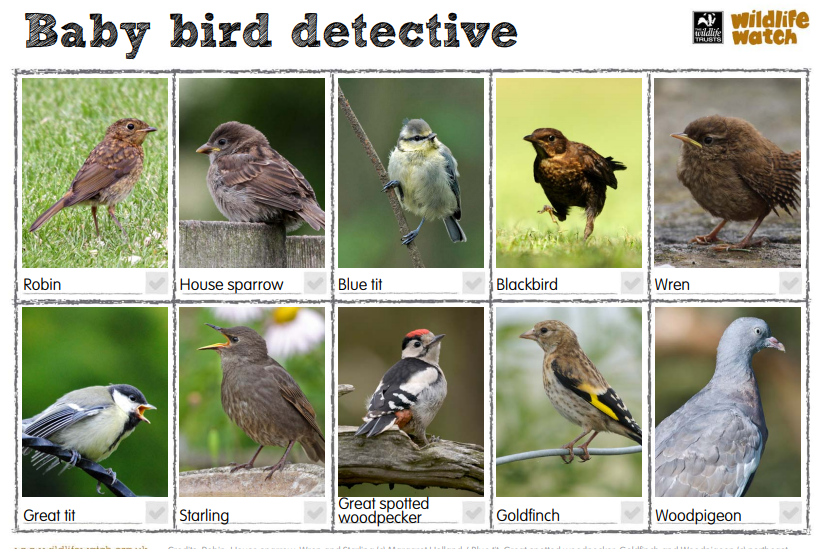 There can be a lot of competition for food among birds, with so many young fledglings on the scene. It's good to keep your bird feeder topped up.
Insects – Look out for … At dusk you may notice moths visiting honeysuckle and other scented flowers.
| | |
| --- | --- |
| Plants – Look out for wild flowers (check out our Summer Flower Spotter) and enjoy the colours and smells in your garden this month. | |
Water all your plants regularly in the summer – daily if it doesn't rain. Climate change could bring hotter and drier summers.

Plants from the Mediterranean, which often have grey leaves, are good at coping with summer droughts.

Try growing lavender, rosemary or lambs ear.
Our Summer Sustainability Challenge!
Being sustainable means looking after our natural world and trying not to damage it,  by polluting it or being wasteful with its precious resources.
What could you do at home to be more sustainable?
Get involved over the summer – what could YOU do to HELP?
Have a look below for ideas and to see what people have been getting up to…
…then send in a photo to show how you've been helping to look after our planet. 
| | | |
| --- | --- | --- |
| Finding letters while out walking… | Can you see what the letters spell out? | |
Food Glorious Food – for free!!

Have a look at these brilliant ideas to grow your own food – no garden, soil or seeds required!

Click on the image to find out more…
Plant wildflowers to attract bees, butterflies, moths and other pollinators…(have a look for our Butterfly and Bee Spotters, further down the page, to identify the ones you see…)
Try growing your own food from seeds.

Mrs McGill has been growing her own tomatoes!

Mrs Owen has been planting seeds in loo rolls and growing strawberries, herbs, courgettes and more!!
Try to attract more nature into your outdoor space. Try building a bug hotel or a wild water feature.

Mrs Horscroft has dug out a pond and made a home for frogs out out logs and stones…
Walk or use your bike to cycle, instead of going in the car…
Make junk models with recycled materials…
Use fabric from an old t shirt to make something new…
Share a great recipe for left-over food…
Reduce, reuse and recycle stuff…have a look at these pictures from Mrs Sayer. Can you guess what she's up-cycled to use as a table, a dresser in her yard and a bird stand?
Mrs Owen has been composting, reusing a plastic box to make a pond and has left a pile of logs and sticks. Do you know what animals might live underneath?
Try to reduce the amount of energy your family uses as home.

Mrs McClain likes to dry her washing outside when she can, instead of using a tumble drier…
Save water, maybe by collecting rainwater to water your plants or turning off taps while you clean your teeth…
Try to use less single-use plastic. You could make eco-bricks with plastic you can't recycle.

Click here…Tips for Making Eco bricks
Try to spread the message to other people! Have a look at some of the posters we made as part of our Save Our Seas topic in Reception…
Have a look at our Eco Team  page on the website for more ideas and information about how you can live more sustainably…
Previous Activities
If you'd like to try something different try clicking on the images below for other ideas…
Monthly Nature News
– each month we'll show you what to look out for and give you activities to do…
June Nature News

Try making a brilliant bird bath for the thirsty birds who visit your outdoor space?

May Nature News

Spot bees, dandelions and baby-birds this month.
Getting Close to Nature Activities
How Close Can You Get?

We have to keep a distance of 2 metres from our friends.  We can get much closer to the creatures in our garden .

But how close?

Fancy getting muddy – click here to find some gloriously muddy activities!
Creative and Play-based Outdoor Activities
If you're feeling creative, try one of these amazing art activities…
Feeling the urge to party with paints, for budding Van Goghs or Georgia O'Keefes…

Why not try painting with  flowers? Click on the images to find out what to do…

Painting with Petals

If your spiders senses are tingling and you feel the need to weave, why not try making a gorgeous Dream Catcher? 

Click on the image to find instructions on what to do…
Or try a different kind of creativity…
Not a Cardboard Box!

This is not a cardboard box! What could it be? Let your imagination fly…

Not a Sheet!

How many things could you do with a sheet? Make flags, dens, swings… just remember to ask first though!!

Watery Activities

How about making your own water-park, experimenting with ice, floating and sinking, even try making your own xylophone with water?
Explorers Challenge!

Plan an exciting journey through your home or your garden, navigating rivers, dangerous bogs, creaky bridges, tall grasses, deep dark caves and terrible villains…