Fair Trade policy document can be found on the School Policies page.
FairAchiever School Award
We are a 'FairAchiever School'.
The Fairtrade Committee are pleased to announce, once again, that we have been successful in securing the Fairtrade award at the highest level in August 2019. 🙂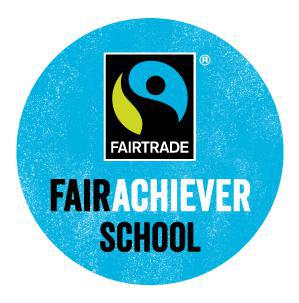 Friday 5th June

is

World Environment Day

! 
We have a new HOME LEARNING ACTIVITY to link to this… 
It is called 'Guardians of the Rainforest!'
'Guardians of the Rainforest'  is about the cocoa farmers who are working together to protect the Gola Rainforest in Sierra Leone, West Africa. The story is told by 14-year-old Beshey, whose family have been cocoa farmers for generations.
After watching 'Guardians of the Rainforest', have a go at the activities on the Home Learning Challenge sheet.
Guardians of the Rainforest Ages 5-7            Guardians of the Rainforest Ages 7-11
Here are our favourite two activities this week…
Create a poster for forest-friendly chocolate
Tasty, organic and forest-friendly! What more could you want in a chocolate bar?! Your challenge is to create a poster to advertise forest-friendly chocolate. Use eye-catching pictures and make sure your text stands out! Watch the full version of the film for inspiration.
Design a forest-friendly animal deterrent for Grandmother Amie
Grandmother Amie scares chimpanzees away from the farm with a drum. This does't harm the animals but it does stop them from eating her crop. Can you design another forest-friendly way to stop animals from eating her cocoa? 
You can learn more about this topic and FAIRTRADE by clicking here
pictures of your poster or deterrent design to assessment@smhsch.co.uk (Ask an adult to help with this). 
Click the image to see some of the things we have been doing… and winning …