Parents, Teachers and Friends Association @ S.M.I.T.H
Meet our teachers supporting the PTFA
'Hello there, my name is Mel McLain and I currently teach in Year 3. This is my 14th year of teaching at St Michael's, but before I joined the school my sons came here too, so my involvement goes back to 2003! Before I worked at St Michael's I worked for a Family Learning team, so I know just how important it is for schools to build strong partnerships with parents and careers, families and the wider community. Thank you for supporting our school and considering getting involved with our PTFA.
In school, I am the Science Coordinator. We have had some wonderful sessions where adults who work in STEM (Science, Maths, Engineering and Maths) careers have come in to school to talk about their work. Some even made videos for us, when Covid stopped face to face visits. We have also had some enjoyable family STEM challenges, and lots of involvement in British Science Week. I am looking forward to working with you again.'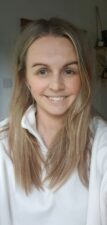 Hi everyone!
I'm Laura Chambers and am one of the teachers in Reception this year. I am relatively new to S.M.I.TH however, I have two children who also attend the school so I know quite a few of our wonderful families already.
This is my first year being part of the PTFA but I am certainly excited to meet with current members and hopefully see some new faces joining us in the coming weeks. We would love for you to join us for a cuppa and a chat once our next meeting date is finalised.
Having been a teacher for 7 years, I know how important relationships with parents and our wider school community are and how much it can benefit our little ones and school life in general.
We will use our school website, Dojo and Twitter page to post upcoming meetings/events…
Watch this space!
Our first meeting!
Thank you to everyone who attended, it was great to meet so many new faces and to welcome you to our PTFA.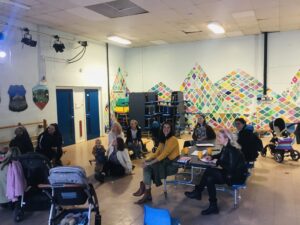 Family Stay and Play
The PTFA were delighted to host a Family Stay and Play session, we had so many lovely comments and very positive feedback from our families. This was a lovely opportunity for children to play freely and our grown ups to enjoy a little cuppa and a chat.
We had such a great time celebrating together at the end of term, in the run up to Easter.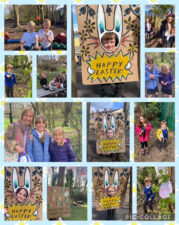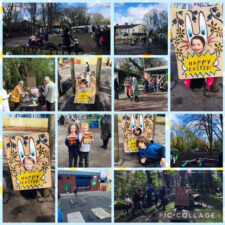 As part of the activities, we had an egg flinging competition. All the chocolate eggs survived their journeys uncracked, and were tasty prizes.