St Michael's Young Entrepreneurs 
We are very excited to be able to get Young Entrepreneurs up and running again. Watch this space to find out who our new team will be!
In the meantime, check out what our previous wonderful teams have accomplished…
2020 Maths Dragons' Den Competition 
Watch this video to meet our fantastic team: The Tick Tockers
Here's a sneak preview of our competition entry video this year that has got us through to the FINAL! 🙂 🙂 🙂
Have you ever heard of 
The Hamlet Hoppers…
                                                     

 The Mathimals?

                                                 

 
To name but a few of our other fantastic Young Entrepreneurs teams over the years!  
Here, you can see the previous successes and astonishing achievements,
all of which have been possible because of the hard work, determination and a super team spirit from all involved. 
2017 Dragons' Den Competition
St Michael in the Hamlet entered a Maths Dragons' Den competition, run by School Improvement Liverpool.
A total of 38 primary, secondary and special schools entered the competition and we were successfully shortlisted to go to the final where we had to showcase our board game and present to a team of Dragons and the other competing schools! This was a nerve wracking experience but also an exciting one at the same time!
Unfortunately we didn't win that year, however we had a fantastic time, learnt so much along the business journey and we are so proud of what we achieved.
Clcik this link below to see the journey of how our ideas developed into the final product itself!
2016 Maths Dragons' Den Event
School Improvement Liverpool & Liverpool Learning Partnership invited Liverpool schools to take part in a Dragons' Den as part of Liverpool Counts.
The challenge was: "Can you design a Maths Board Game or a Games App for Maths?"
We decided that we wanted to merge both a board game and an app together to create an amazing maths game for all the family to play and have fun playing as well as be challenged in Maths and learn about the world!
We incorporated the free app 'Aurasma (now called HP Reveal)' as continental challenges in our game. Once you complete a continent by answering different word problems, you have to answer a data handling question using Aurasma. Here you collect a code breaker token. Then you can move onto the next continent where you repeat the process until you finally reach our home continent 'Europe'.
At the end all players take part in a code breaker challenge whereby you have to try and make the target number using the number tokens that you collected on your journey. The player who makes the target number, or is the closest to it, wins the game!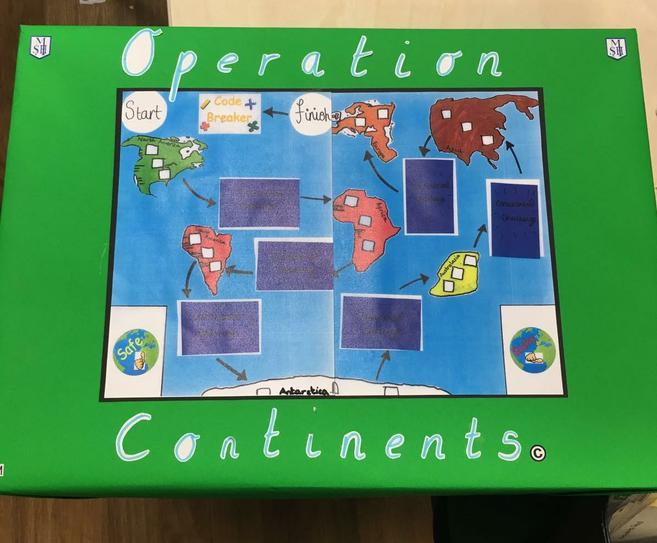 St Michael in the Hamlet Primary School were shortlisted to participate in the Dragons' Den Final where they competed against 11 other schools in Liverpool; 5 primary schools and 6 secondary schools. The team known as 'The Hamlet Hoppers' consisted of six children aged 6 – 10, led by pupil manager Zahid Khan. Together, they delivered an informative ten minute presentation explaining their fabulous game 'Operation Continent'. The Hamlet Hoppers successfully won the whole competition, securing their school £1000 to spend on maths resources and they have big plans to sell their maths game in the near future!
What is unique about our school's Young Entrepreneurs business competition teams is how we include the whole school and wider community, by asking different classes to join in with specific projects at different times, setting up family projects where applicable, and carrying out market research with our families, friends and the wider community. 
Thank you to all of St Michael's families and friends who have helped our business teams. 🙂