We use a variety of creative, modern resources to enable our children to receive high quality education in the areas of Writing.
Starting with our writing scheme 'Pathways to write'.
All children from Nursery to Year 6 access sessions in writing during the week, often linked to the topic the children are working on and structured appropriately for their learning. This includes handwriting sessions, spellings and grammar.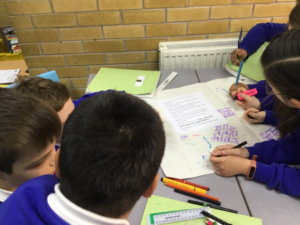 PRIMARY_national_curriculum English
Pathways to Write – texts and mastery overview – all year groups
Poetry Family Learning – January 2023
We welcomed families from across school to join us for a session of fun poetry writing. Families worked together to create their own version of Kit Wright's Magic Box poem. They came up with some brilliant ideas!
Some examples of our writing: