Music at SMITH 
Music is all around us. It is the soundtrack to our lives. Music connects us through people and places in our ever-changing world. It is creative, collaborative, celebratory and challenging. In schools, music can bring communities together through the shared endeavour of whole-school singing, ensemble playing, experimenting with the creative




process and, through the love of listening to friends and fellow pupils, performing. The sheer joy of music making can feed the soul of a school community, enriching each student while strengthening the shared bonds of support and trust which make a great school. At S.M.I.T.H., we want our children to love music!

  Music policy document can be found on the School Policies page.
Model Music Curriculum
The Model Music Curriculum sets out sequences of learning in the following key areas which, when taken
together, all contribute towards the steadily increasing development of musicianship, for our children:
• Singing
• Listening
• Composing
• Performing/Instrumental Performance

Charanga is an exciting computer program which is used across all Key Stages to deliver the teaching of the music curriculum. It ensures continuity of approach and progression in music throughout the school. The school has abundant resources with a wide variety of tuned and un-tuned percussion instruments, which enhance the teaching of music.
Singing
Singing is an integral part of our school. Year 2 have their own singing group 'Songbirds' run by Mrs Burch and Mrs Brackenridge and year 6 have Singing Leaders run by Miss Nelson and Miss Fearon.  Although we are not currently holding our singing assemblies, we take every opportunity to sing such as singing in the playground, humming or singing at home through Charanga and via the home learning platform Yumu. Home Learning – (charanga.com). Children can also access a signed version of the main songs that are on Charanga, so that they have the chance to communicate through signing rather than singing.
Playing Instruments
brass
All year 4 pupils have begun free brass instrument lessons, which include trombones, trumpets, cornets and euphoniums in the school hall, where the children, can continue to play at a safe distance from each other.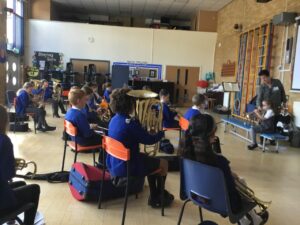 The children then have the choice to continue tuition in years 5 and 6 (at a reduced cost). The brass tuition is led by Louise Hough from Resonate, Liverpool's Music Hub.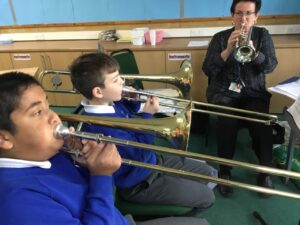 violin and drumming lessons
Children across Key Stage 2 also have the opportunity to play the violin with our peripatetic teacher Lynda Langford. 
Performances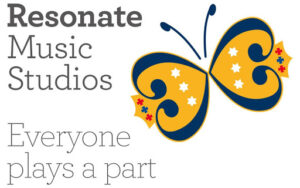 Our school has always put music at the heart of our school culture. So, in July, our pupils were delighted to take part in 'Proms in the Playground'. A initiative, led by Brass Bands England (BBE), helped to bring live music back to budding young musicians across the country and our musicians from years 4, 5 and 6 performed in front of our delighted SMITH school community.