Ms Bennett and Miss Fearon are happy to welcome you to Year 4 where you can see what we will be getting up to in 2021-2022! This year, we are lucky to be supported by Miss Lawrence and Ms Peers.
We update our families on what happens in our year group via Class Dojo and our school Twitter, @st_michaels_ham. Please speak to your class teacher if you need help accessing Class Dojo and we will be happy to help!
Below you will find important dates and information for year 4, our curriculum newsletter and topic webs to see what exciting things Year 4 will be learning about this year!
PE – Children have PE sessions on Thursdays and will be expected to arrive in to school wearing appropriate kit (white top, dark jogging bottoms and trainers).
Water Bottles – We encourage all children to bring a water bottle in school to stay hydrated!
Brass/String Lessons – Year 4 are lucky enough to have brass lessons every Wednesday, delivered by Resonate. Individual and small group string lessons also take place on Wednesdays. Please remember instruments and music folders for these days.
Spelling Tests – Spellings are tested weekly on Fridays or Mondays. Spelling lists are sent out with all children at the beginning of each half term. Please speak to your class teacher if you seek additional copies.
Times Tables Tests – To support the maths curriculum, all children are encouraged to continue learning and practising their times tables up to 12 x 12. Children have a times tables test each Friday.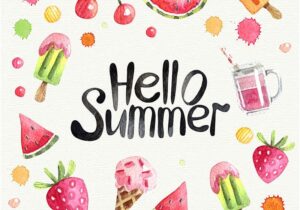 4F's Spanish Class Assembly
Children in 4F organised a Spanish wonderland for their families last week including tapas tasting, a Spanish fan making competition and the ultimate Spanish quiz! Everyone had such a fantastic morning and children and staff were so happy to see so many families come to support 🙂 ¡Enhorabuena 4F!

Roman shields
The children loved making their very own Roman shields this term following on from our Rotten Romans History topic!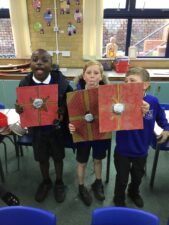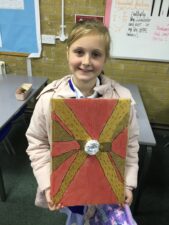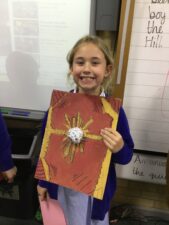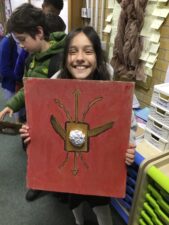 Let the sun shine!
We have definitely made the most of the warm weather recently and have spent lots of time enjoying our outdoor learning environment 🙂