Mrs Burch, Mrs Horscroft and Miss Fearon are happy to welcome you to our Year 4 page where you can see what we will be getting up to in 2022-2023!  Ms Bennett will be taking the children for PE each week and Ms Hough will be our brass music teacher.
We will update you on what's happening in school via Class Dojo. Please check the Class Dojo app regularly as this is how we communicate all the information you need to know. We can also message each other via Class Dojo and we'll regularly put photos on there too! You can also see what's going on in the wider school community on our Twitter feed – @st_michaels_ham. Please speak to your class teacher if you need help accessing Class Dojo and we will be happy to help!
Below you will find important dates and information for year 4, our curriculum newsletter and topic webs to see what exciting things Year 4 will be learning about this year!
PE – Children have PE sessions on Wednesdays and will come to school wearing their PE uniform –  (white top, dark jogging bottoms / leggings, school jumper, cardigan or hoodie and trainers).
Water Bottles – We encourage all children to bring a water bottle in school to stay hydrated!
Brass/String Lessons – Year 4 are lucky enough to have brass lessons every Wednesday, delivered by Resonate. Individual and small group string lessons also take place on Wednesdays. Please remember instruments and music folders for these days.
Homework – We will be setting maths homework each week on a Friday. This may be worksheet based work or an online activity. Please return / submit homework by the following Tuesday.
Spelling Tests – We will be learning different spelling patterns each week in year 4. The children will take part in fun spelling games to help them learn the patterns and we will be sending them home each week via Dojo for more practice. Please note,  we will not be testing them in a formal way, but using different strategies to help your child learn their spellings. So if your child finds learning spellings difficult for a variety of reasons, please rest assured that we will support them in this.
Times Tables Tests – To support the maths curriculum, all children are encouraged to continue learning and practising their times tables up to 12 x 12. Regular practice is the best way to make times tables stick, so having them up around the house, listening to times tables songs and regularly using Times Tables Rockstars will help!
Spring Term 2023
Romans on the Rampage
part 2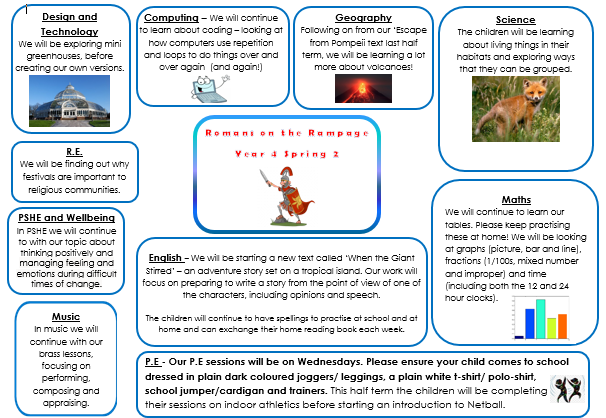 We are very excited about our topic this term. We know the children are going to love finding out all about the Romans as well as all the other brilliant learning we'll be doing! Check back regularly for pictures of what we're getting up to 🙂 .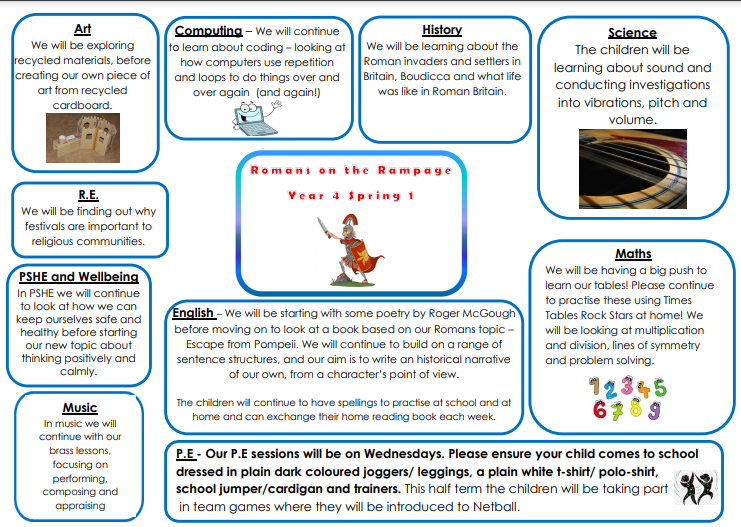 Year 4 Topic Web Spring 1 2023
Autumn Term 2022 Part 2!
Into the Unknown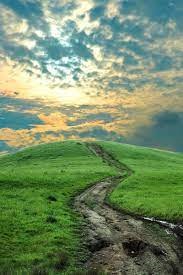 We are very excited about our Topic this term and all the fun packed learning we're going to be doing in year 4! Here's our topic web so you can see what we're getting up to!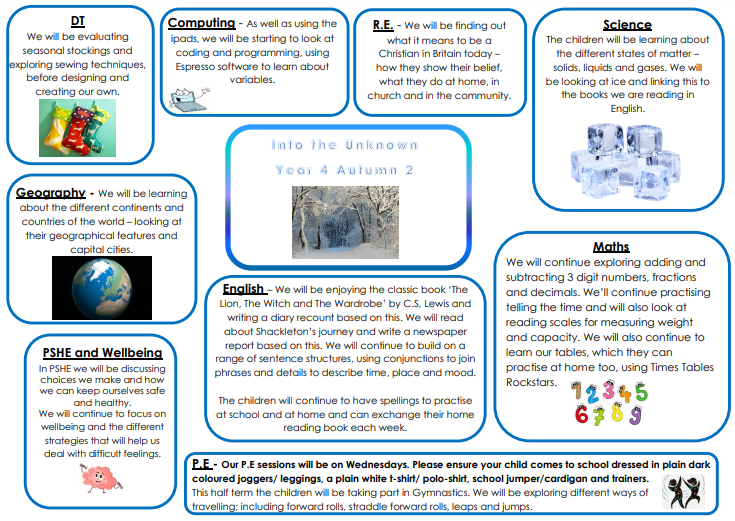 Ancient Egypt Topic Day
We had a great day for our Egyptian topic day! We made Egyptian flatbread, took part in an embalming workshop and then wrote instructions about it! We found out all about Egyptian gods and goddesses, had a mummy race and finished the day with an interactive quiz! Here are some pictures from our fabulous day –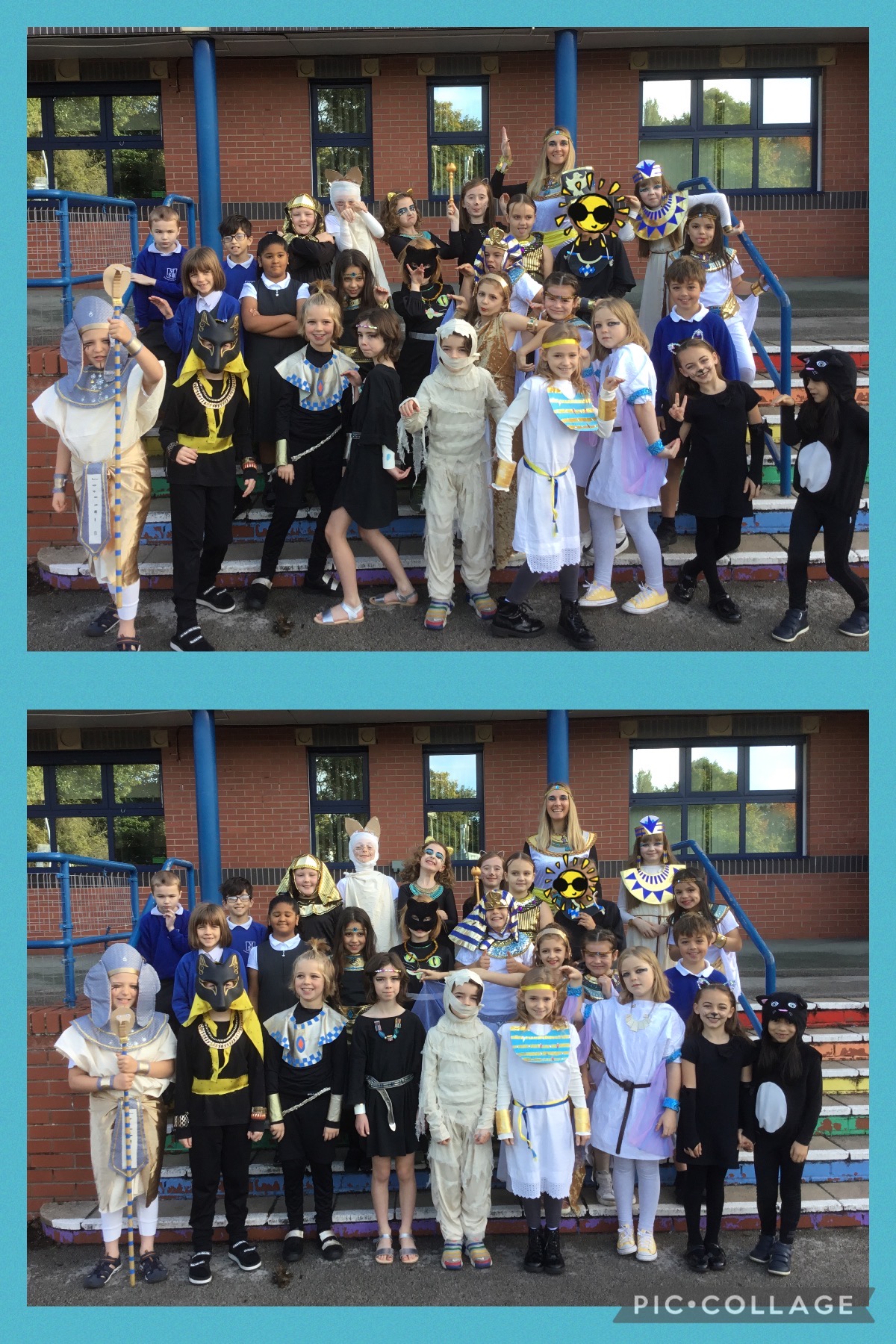 Autumn Term 2022 Part 1
Autumn 1 Topic Web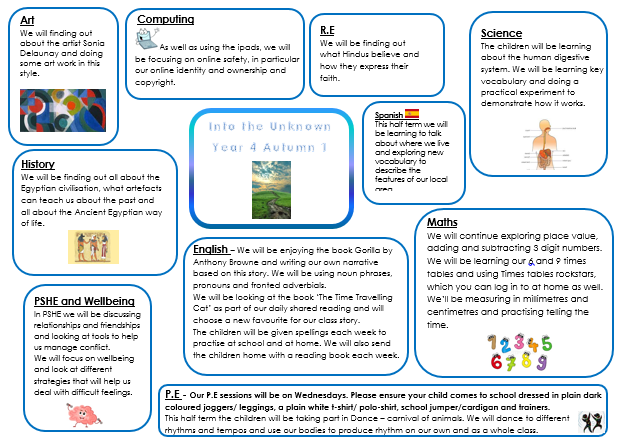 You can find our Autumn 1 newsletter here: Autumn 1 Newsletter 22