Welcome
to
Year
Three
Miss Bayley and Mrs McLain are happy to welcome you to our Year 3 page, where you can see what we will be getting up to in 2022-2023. Mrs Burchardt, Miss Madison and Mrs Hobson are our brilliant support staff in Year 3. Ms Bennett will be taking the children for PE each week.
We will update you on what's happening in school via Class Dojo. Please check the Class Dojo app regularly, as this is our main way of communicating all the information you need. We can also message via Class Dojo, and we love to share photos of our successes. You can also see what is going on in the wider school community on our Twitter feed  @st_michaels_ham. If you are having problems with Class Dojo, please ask one of the members of staff and we will try to help.
Our PE day is Tuesday. Children come to school wearing their PE kit -white top, black or navy jogging bottoms/ leggings/ shorts and trainers, plus their school jumper or cardigan for warmth. If you want to leave a pair of pumps in school to change into for indoor PE these can be kept in your child's locker. Please clearly name all articles of clothing.
During the first half of the Spring Term, 3M will also have swimming lessons on Fridays. After the half term holiday, it will be 3B's turn for Friday swimming.
Please could everyone remember to bring a water bottle every day too.
We will be setting maths homework each week on a Friday. Sometimes this will be a paper sheet, at other times an online activity, often on www.activelearnprimary.co.uk. If you have lost your active learn login please speak to a member of staff. Each child also has a Times Tables Rockstars login to help them practise for the Friday tests.
Thank you for all your support, we are looking forward to a fun and productive year, working in partnership together.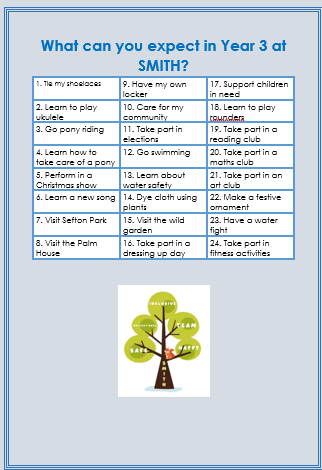 Year 3 Pupil Passport
Photos from Spring 2
We are finding our coding sessions very exciting!
In our Design and Technology topic 'British Inventors' we learnt about Alexander Graham Bell. Then we tested and evaluated cup and string systems. This will stand us in good stead for our science of sound work in Year 4.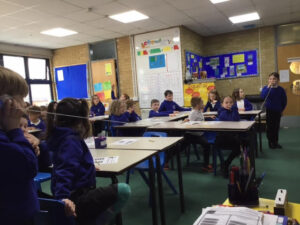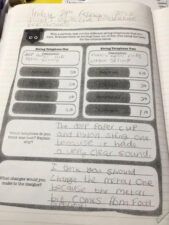 In science we are learning that animals, including humans, need the right types and amounts of different foods. We sorted foods onto the Eatwell Plate.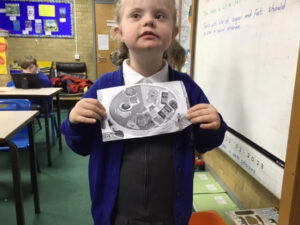 We know how to say our birthday date in Spanish.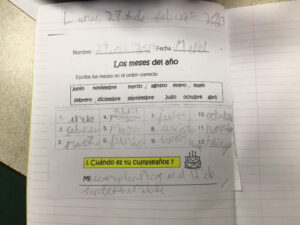 Our Religious Education topic is 'Celebrations' and we are focusing on Easter. We started by thinking of all the different times we celebrate, and ways such as special food, getting together with others and giving gifts we celebrate.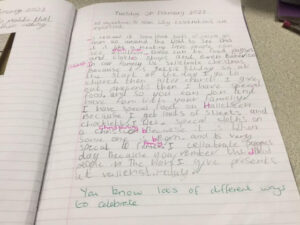 In Geography we are learning about different occupations and land use. We used our computing skills to safely research different jobs online.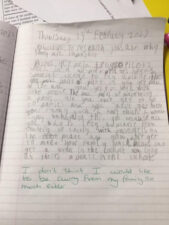 Photos from Spring 1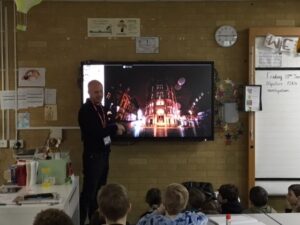 Teddy's dad told us about buildings he has designed, to support our art 'Famous Buildings' topic.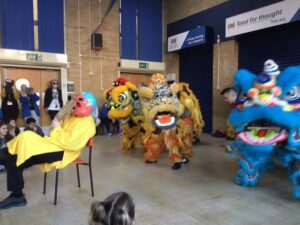 Our Chinese New Year celebration was even more special, because one of our year 3 children was in the lion costume.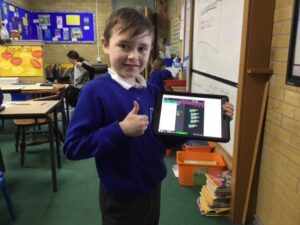 Coding.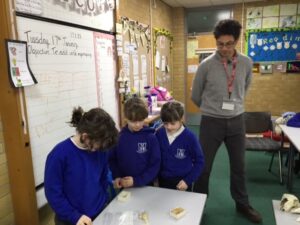 A visit from STEM Ambassador Dr Carlo Meloro, who brought lots of fossils for us to observe and group.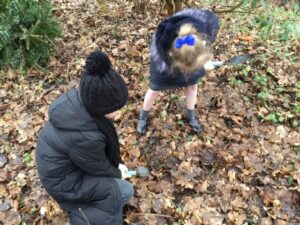 Investigating the health of soil in our wild garden.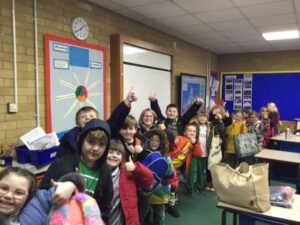 Ready for our first swimming lesson.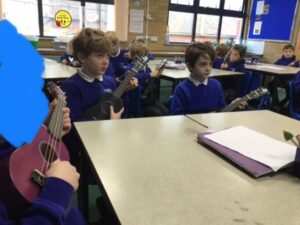 We are learning to play ukulele.
Photos from Autumn 2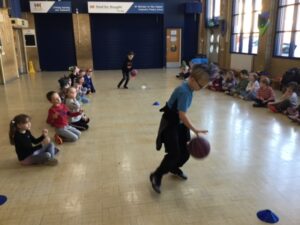 Basket Ball lessons with Mersey Mavericks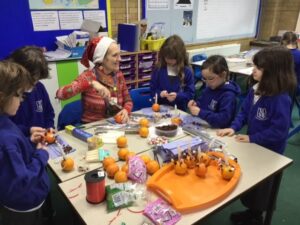 Making Christingles, ready for our Christingle service at St Michael's church.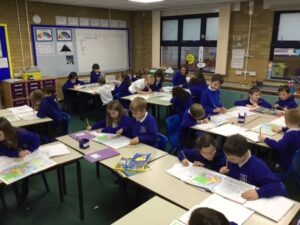 Using atlases to find the names and locations of European capital cities.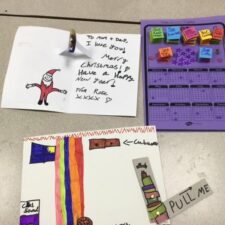 Lots of different paper engineering in Design and Technology, to make different sorts of moving pictures.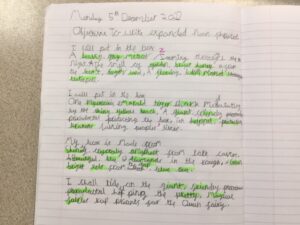 Poetry writing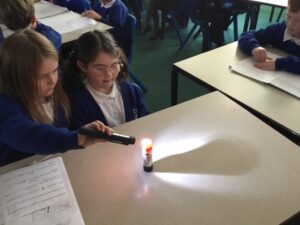 Investigating patterns in shadow formation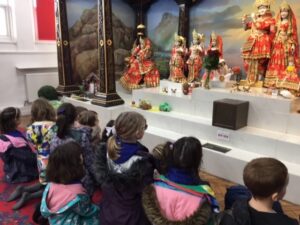 Our trip to the Hindu Temple on Edge Lane.
Photos from the start of the year.
We have been so busy already. Here are just a few of the things we have done: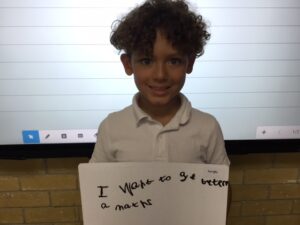 Set some of our own goals for the year.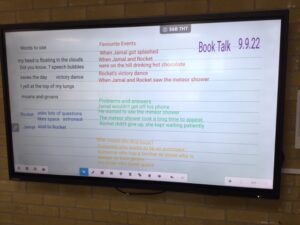 Talked lots about our transition book, 'Look Up'.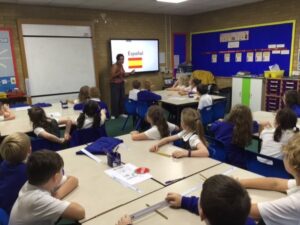 Had a Spanish lesson with Ana.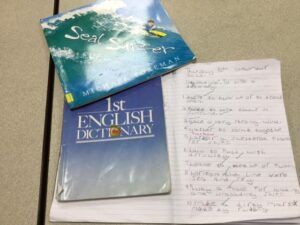 Used a dictionary to find the meanings of words in our new book 'Seal Surfer'.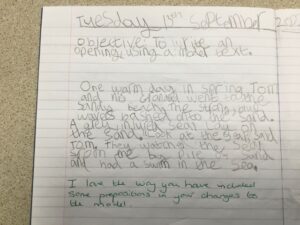 Used a model from the book to write our own opening, including prepositions.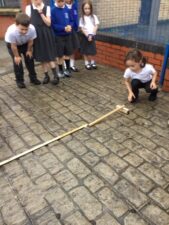 Investigated how a marble moves on different surfaces.
Weblinks
National Autism Society Website
Digger and the Gang
Nash's Adventures in English Maths and Science