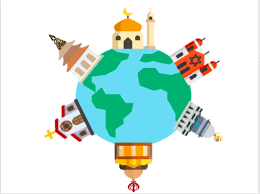 Religious Education policy document can be found on the School Policies page
RE Long Term Plan – Objective Mapping 22/23
Religious-Education-in-Schools-Non-Statutory-Guidance
At St. Michael in the Hamlet Community Primary School we follow the Liverpool Agreed Syllabus for Religious Education. Our RE curriculum is reflective of our school S.M.I.T.H vision. We are committed to providing inclusive, inspirational and innovational teaching, delivering a rich and broad-based curriculum that motivates our children to love learning. We want our pupils to feel safe and inspired to fulfil their true potential.
 The Intent of our Religious Education Curriculum
Religious Education will support children and young people in reflecting upon, developing and affirming their own beliefs, values and attitudes, through an exploration of shared human experiences and of the place and significance of religion in the contemporary world.
The Implementation of Religious Education
There are no presumptions made as to the religious backgrounds and beliefs and values of the children and the staff. We value the religious background of all members of the school community and hope that this will encourage individuals to share their own experiences with others freely. All religions and their communities are treated with respect and sensitivity and we value the links, which are and can be made between home, school and a faith community. We acknowledge that each religion studied can contribute to the education of all our pupils. We promote teaching in Religious Education that stresses open enquiry and first-hand experiences wherever possible for both pupils and staff. The syllabus is implemented in school by means of a highly sensory approach, where children may look at and handle religious artefacts, hear religious music or taste food from a religious tradition. We hope our work in RE builds on pupils' cultural understanding of themselves and our local community.
How we Enrich our Religious Education Curriculum
At St Michael in the Hamlet Primary School we recognise the benefit of learning outside the classroom. We value the opportunity of bringing learning to life by visiting places of worship.  Such visits give pupils first hand experiences of the faith they are studying and helps to place pupils' knowledge in context. We also welcome parents and members of the local community to come in and talk about and share their faith with our pupils. We hold events to celebrate different religious festivals throughout the academic year such as Christingle, Divali, Chinese New year and Eid.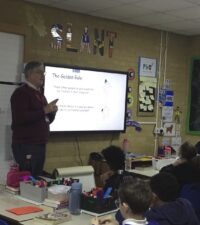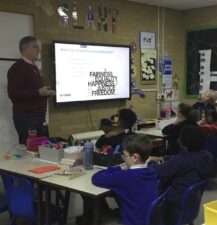 Our 'BIG' question this half term has been: What code of living do non-religious people use? Year 5 enjoyed a visit from Mr. Barrington from Humanists UK who came to share his thoughts and tell us in more detail about Humanism for our recent unit of enquiry.
EYFS
In EYFS, Religious Education is delivered primarily through the 'Understanding the World' strand of the curriculum. Children grow in awe of the world in which they live, developing an appreciation and curiosity. Children are encouraged to develop positive views of themselves and others, and to learn how to form respectful relationships. Teacher-led and pupil-led activities encourage them to develop moral and cultural awareness, which they will then build upon in KS1 and KS2.
Useful websites
BBC My life, my religion series
BBC Bitesize – Religious Education
Religious Studies KS1: Religions of the World BBC Teach