County Final Competition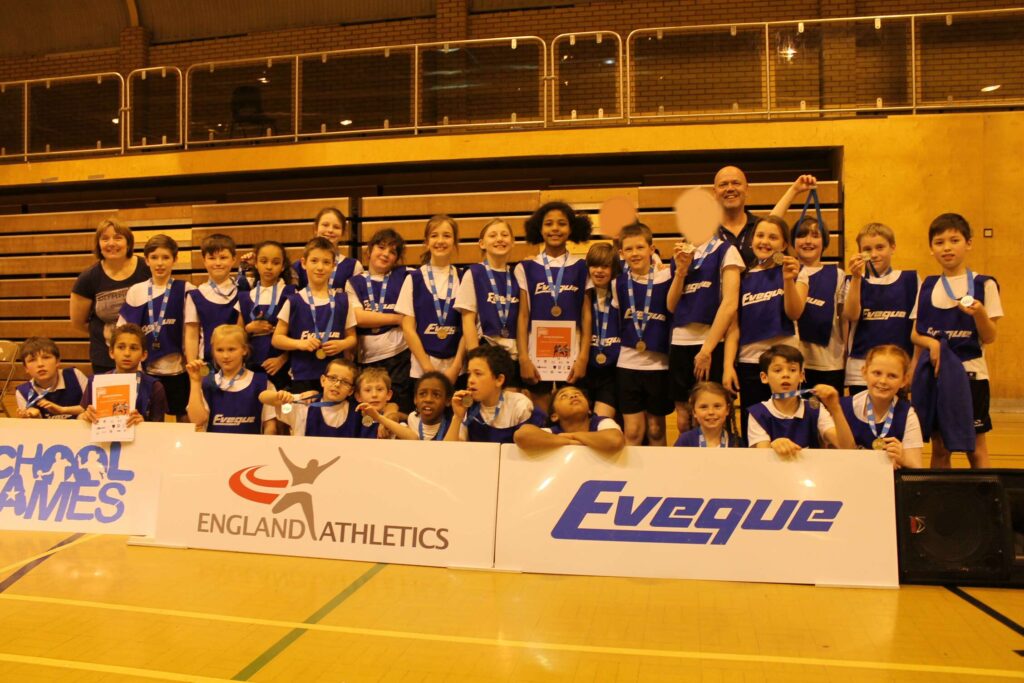 It was that time of year again when all the Champions of Merseyside indoor athletics met in the County Competition. All teams from all over Merseyside have earned their place through becoming city champions to compete in the Merseyside Sainsbury's School Games Final (previously known as the Aviva Sport Hall Games)  The venue was Kingsway leisure Centre Widnes on the 28th March 2014.
St Michael in the Hamlet has been competing in the event since 2009. The school have been County Champions (2010).  Overall the school have not been outside the top four places in the event. We have a phenomenal record of consistently achieving at the 'GOLD Medal Standard' for running and jumping. This competition is a team event which is a change in format from the primary school city competition; where athletes compete in individual events for the team. In the county competition there are timed heats to determine the winner of each event. Upon arriving at the venue, it was clear to see than there were more teams than ever competing this year. Sixteen teams in total had come to compete, four teams from Liverpool.
The first event is always the girls and boys obstacle race. The girls' team finished second in their heat. The boys' team who are the city of Liverpool champions won their heat in very convincing fashion.  We were off to a great start the running events started coming thick and fast with the field events taking place at the same time. Most races were very close on the line the baton change overs kept the tension going throughout. It was a really close competition and the standard of all the athletes was very high.
The final races were the 1 lap boys' and girls' relay. This is always an exciting race. The girls' team won their heat so the pressure was on the boys! The race started and St Michaels were third, slightly off the pace. The boys changed the baton very efficiently; it was nail-biting stuff! It came to the final change and St Michael's runner still had a bit to do, it came down to the final turn and we won the race by a whisker on the line. What a great end to the competition!
The results were announced in reverse order. In third place with a score of 562 Farnworth. Only two teams left and we were one of them! The announcer said, in second place; St Michael in the Hamlet with a score of 580. First place went to Leigh Vale with a score of 592.
What a great effort by our young athletes to gain 2nd place in the County.  The team also won the city title earlier on in the year. So quite a successful year so far!!!